By Helen McCarthy.
The mascot characters of the Tokyo Olympics are Miraitowa and Someity, selected from over 2000 entries in an open competition over four years ago, and spattered over every conceivable surface, screen and item of merchandise. They even had an animated appearance, showing up in two online shorts, participating in every planned Olympic and Paralympic event. Over the last year, they have turned into high-profile symbols of Olympic frustration, doggedly clinging to the "2020" logo as their merch passed its sell-by date. But they are by no means the first Japanese characters associated with the Olympics.
The opening ceremony of the anime Olympiad was in 1928. The real Games were in Amsterdam that year. Japanese athletes took home five medals: two golds, two silvers and a bronze. Yasuji Murata parodied this sporting success in Animal Olympics, a comic take on the Games. A pole-vaulting polar bear, an elephant whose javelin skills bring down a cheating pig, and a duck who outruns a camel to win the 800 metres, have more in common with Sanae Yamamoto's 1924 version of Aesop, The Hare and the Tortoise, than the drama-packed sports anime of more recent years.
Japanese animators kept up the animal theme with a string of films in the early 1930s: Animal Sumo in 1931 was followed by Olympic Games on Dankichi Island in 1932. This tied in with the Los Angeles Olympiad, where Japan dramatically increased its medal haul to eighteen, including seven golds. Sticking with a winning formula, Murata animated Sports Day at Animal Village in 1934.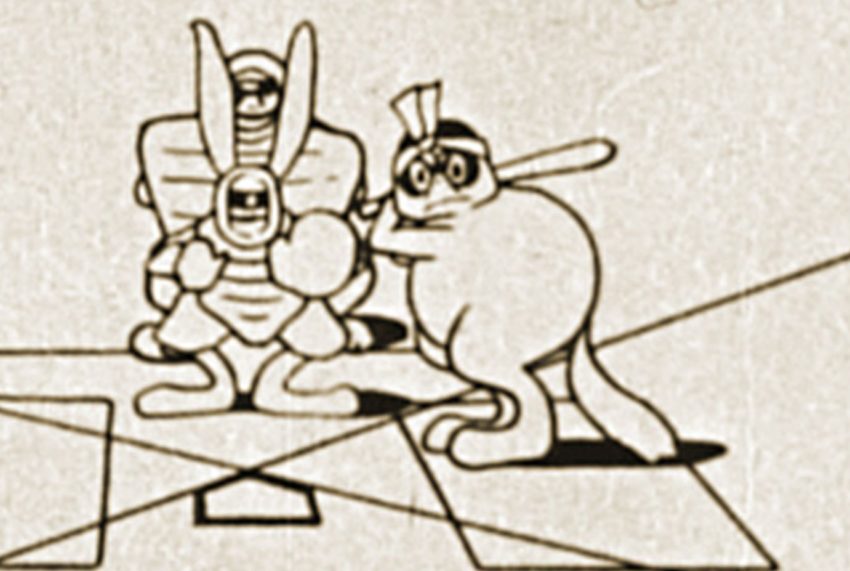 In 1930 Murata animated and directed Our Baseball (Oira no Yakyu) for the Yokohama Cinema Company. Japan had taken to America's national sport like Murata's duck to the 800 metres, and even when the nation's focus shifted from sporting conquests to more serious ones, baseball stayed Japan's number one sport. Seiichi Harada directed Baseball in the Forest in 1934. Later, in the post-war Occupation era, the American authorities saw baseball as a wholesome pursuit free of the taint of nationalism and militarism. Sanae Yamamoto was able to make a comeback with Animal Great Baseball Battle in1949.
As television gained market share in post-war Japan, real-life sports programming was hugely popular. Many sports were a cheap option for TV companies, requiring only one fixed camera and a commentator, and won over audiences who could not afford the time or money for travel to big-city venues. This naturally discouraged anime studios from making sports shows. Producers preferred to invest in themes of fantasy and science fiction, themes the still-emergent TV special effects industry could not replicate easily. It wasn't until 1968 that sports anime found its true form on TV with Star of the Giants, a series which not only tied into a real-world baseball team, the Yomiuri Giants, but also established many of the visual and story tropes still in use in sporting anime.
But once again, the real-world Olympiad triggered a new wave of anime and manga. Japan was not invited to the 1948 Games, but competed in Helsinki in 1952 and Melbourne in 1956, bidding unsuccessfully for the 1960 Games against Rome. In 1964, the Games came to Tokyo.
Japan took 29 medals on home soil, including 16 golds. The women's volleyball team, dubbed the "Witches of the Orient" by their Russian rivals, pulled off an unexpected victory, inspiring Chikako Urano's 1968 manga Attack No. 1 and its 1969 anime incarnation. Five wrestling golds created a boom that led to Animal One and Tiger Mask, also animated in 1969, while Takao Sakurai's boxing gold helped to feed the fever for Ikki Kajiwara and Tetsuya Chiba's 1968 manga Tomorrow's Joe, animated in 1970.
Japan did less well at the 1968 Olympiad in Mexico City, the women's volleyball team coming away with silver after a tense final against the Soviet Union. The gymnasts and wrestlers scored the most golds, and the footballers brought home a bronze medal, helping to boost interest in the anime version of manga Red-Blooded Eleven which screened that year.
1972 saw the screening of Road to Munich, starring the Japanese men's volleyball team, a combination of anime docudrama and attempt to bypass Olympic commercial restrictions on amateur athletes. Munich was also the scene of a terrible tragedy when eleven Israeli athletes and coaches and a German police officer were murdered – a belated final episode of the series, airing after the incident, was titled "Gold Medal of Tears."
The 1970s and 1980s saw a great wave of anime merchandising: always part of the TV anime mix, it became more potent as the arrival of giant combining robots made it even more irresistible to toy manufacturers. Motorsports held up better than most sporting anime in this new era, since toy cars are always good sellers. Baseball made a comeback largely thanks to manga creator Mitsuru Adachi, whose hit series Miyuki, Nine and Touch fed into high school nostalgia and teenage romance. In 1983, soccer anime Captain Tsubasa began a world-spanning career despite the fact that soccer was more than twenty years away from achieving mass popularity in Japan.
During this era, Olympic sport was largely represented by the cute animal mascot of the 1980 and 1984 Olympiads. In a flashback to the anime of the 1920s and 1930s, Misha the Bear Cub (1979) and Eagle Sam (1983) flew the Olympic flag without much human assistance. But in 1986 a manga heroine who would inspire a generation of girls was created. Naoki Urusawa's Yawara! was animated and filmed in 1989, and watched by millions who would see sixteen-year-old Ryoko Tamura, nicknamed "Yawara-chan", go to Barcelona to take part in the first ever women's judo gold medal competition. She came home with the silver.
Since the early 1990s, sports anime producers have taken their sports into a sci-fi future with shows such as Battle Athletess (1997) and Eyeshield 21 (2005). The old favourites – baseball, volleyball, soccer – still air occasionally, and the craze for anime about groups of cute boys made Prince of Tennis (2001) a huge hit. When the Beijing Olympics came around in 2008, organisers ran with the idea of an animated creation of their own, knocking up the Fuwa – a five-creature team like something out of Power Rangers, emphasising the diversity of Chinese races and bogglingly gaining their own 100-episode television series.
Anime and gaming characters were infamously associated with the Tokyo Olympics from the start, with the announcement of the games cringingly marked by then-PM Shinzo Abe jumping out of a pipe dressed as Super Mario. Determined to push Cool Japan, the lead-up to the Olympics was also linked to a number of high-profile franchises, leading to protests from fans that the good name of One Piece, Sailor Moon and er…. Crayon Shin-chan was besmirched by association with an event dogged by controversy and bad luck. With opinion polls showing that up to 80% of Japanese were anti-Olympics after all the faffery, Osamu Tezuka's daughter Rumiko commented that, in hindsight, Astro Boy's status as an ambassador for the Olympics might have been a bad idea.
But even if the Games go on in silence, crowdless, and devoid of an opening ceremony, there is still a chance that some sort of winning drama will break out on screens. If a cute and perky girl makes a hit on the gymnastics mat, or a determined young man overcomes all the odds in one of the martial arts disciplines, a new hit manga or anime could still arise from the ashes of the Tokyo Olympiad.
Helen McCarthy's latest book as editor is Leiji Matsumoto: Essays on the Anime and Manga Legend.
Jonathan Clements

This article was originally published by blog.alltheanime.com. Read the original article here