by Jeremy Clarke.
Naomi Kawase's new film True Mothers deals with the interface between unwanted teen pregnancy and infertility among married couples and was Japan's entry for this year's Best International Feature Film at the Oscars. Sadly, its story of an unmarried mum who hands her child over to childless, adoptive parents only to later decide that she wants the child back didn't make the Academy's shortlist. However, UK audiences up and down the land will now be able to see it on Curzon Home Cinema. It had a brief UK big screen outing late last year at the London East Asia Film Festival (LEAFF), which, after several months of touch-and-go somewhat incredibly went ahead days before the UK went back into total lockdown.
Former documentarian Kawase has been getting a lot of exposure in the UK in recent years with both Sweet Bean (2015) and The Mourning Forest (2007) released here on Eureka! Video and Still the Water (2014) currently available on MUBI and BFI Player. I like Kawase but I must admit True Mothers sounded like it might be terrible. It turned out to be the best thing I'd seen for ages. When I saw it, I was unaware of its potential Oscar status. Worthy films and Oscar-bait are my least favourite genres, yet for me it admirably avoided being either.
Echoing The Mourning Forest and, to a lesser extent, Still The Water, wind blows through trees and foliage at various points throughout True Mothers. That suggests a wildness, an unstoppable force of nature, perhaps something essentially good. All those qualities are at the heart of Kawase's drama and her sympathies lie with both of the women as well as with an intermediary, a third woman in the narrative who runs a charity helping young women with unwanted pregnancies successfully birth their babies and place them with loving, adoptive families.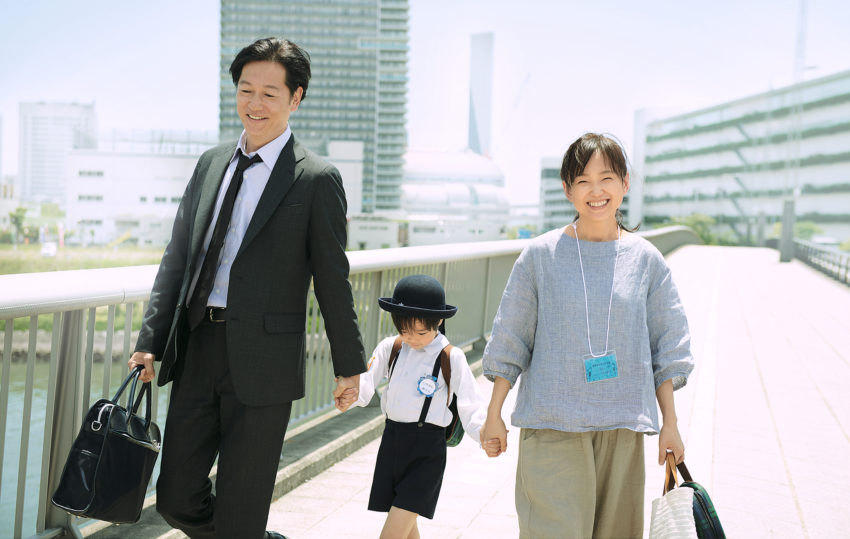 One of the most moving films this writer has ever seen, it's a long haul at 140 minutes, but Kawase needs that running length to wander around in time, explore a present-day narrative and delve into the backstories of the two women to show how they got to be where they are in terms of life and motherhood.
Satoko Kurihara (Hiromi Nagasaku) must sort out a nursery incident after a boy breaks his leg at the jungle gym. Her adopted son Asato (Reo Sato) was at the scene, and claims that the other boy simply fell. But that's not the story as told by the injured boy's mother. Satoko Kurihara talks to her son and it's clear that she has an open and honest relationship where truth-telling is encouraged. I didn't do it, he says simply.
In whatever way that little sub-drama is about to play out, Satako and her husband Kiyokazu (Arata Iura) are clearly loving parents. The narrative jumps back in time to recap their family history. A visit to a clinic reveals that Kiyokazu suffers from the condition of Azoospermia – he produces no sperm at ejaculation, possibly because his sperm duct is blocked. Although there are medical workarounds, they're quite complicated, so instead the couple decide to adopt. The Baby Baton agency gives them the option of meeting the birth mother, an option few couples take up but which the Kuriharas do. So, they meet young Hikari Katakura (Aju Makita), who gives them an envelope with a letter to be read to their son when he's old enough to understand. Determined to do the right thing by both the birth mother and the boy, the Kuriharas read the letter to their son once a year so that he'll know where he came from, and they introduce the idea that he had a mummy who carried him in her tummy before he came to live with his present mummy and daddy, a concept the child takes on board.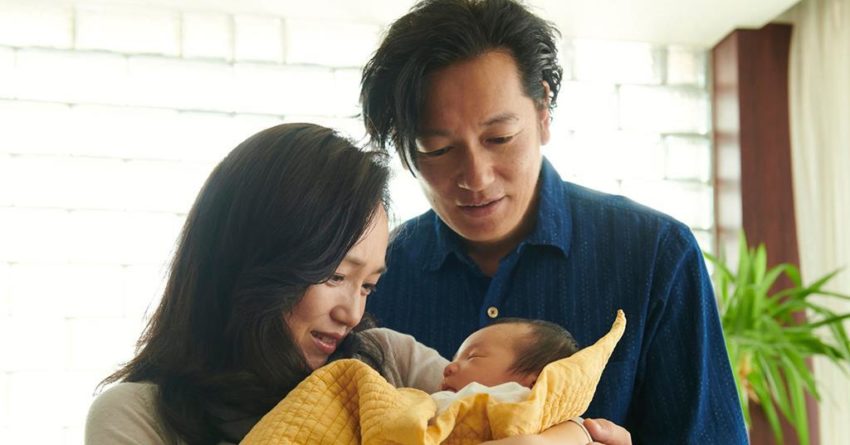 The narrative also flashes back through Hikari's past to a sweet romance with a high school boy. They like each other a lot. Echoing Still the Water (and a thousand other Japanese films) they go riding on his bicycle with her sitting on the back while he struggles to pedal uphill. They go walking together in the forest, stopping to sit down, kiss and hold each other tight. Then one afternoon, presumably at his parents' house, they're naked and making love. Like the wind in the trees at the beginning, all these sequences possess a natural rhythm underscoring that something really good and open and human is happening here. The sex scene manages to convey a deep, physical intimacy without the usual, accepted, contemporary industry recourse to photographing full bodies coupling or heads and faces. Apart from mouths kissing, we see hands resting on or caressing various areas of bodily flesh. It's a profoundly moving sequence which comes across as one of the most emotional and moving portrayals of sexual intimacy I have ever seen on the screen. It doesn't attempt to glamourise the experience. Nor does it make it appear emotionally or physically unattractive by means of dull visuals.
The tone changes abruptly when Hikari's mother (Hiroko Nakajima) takes her to a doctor who asks her coldly clinical questions and confirms she is pregnant – at 23 weeks, a couple of weeks too far along to allow termination under Japanese law. Her mother's attitude is to hide this away until someone else can adopt the baby so that the young woman's life isn't ruined. Her mother is interested in the family's reputation as well as Hikari's future, but Hikari's feelings and emotions and whether she and the child's father love one another are not in the picture.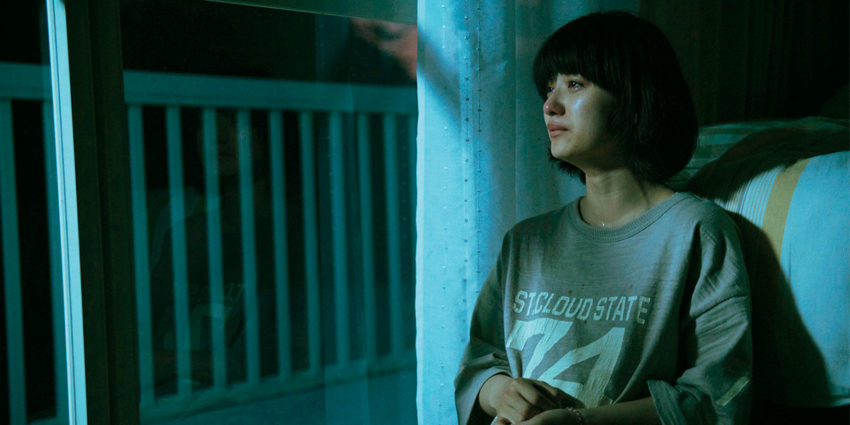 So Hikari is sent to the Baby Baton centre, which is located on an island, and is run by the kindly Shizue Asami (Miyoko Asada) who looks after girls with unwanted pregnancies, helping them through the birthing process and the adoption of their offspring by families able to care and provide for a child's needs. Hikari loves being on the island and befriends a couple of other similarly pregnant teenagers, notably a hardened girl who has been around in the sex trade, has no qualms about giving her baby up for adoption and who will later get Hikari briefly encumbered with a debt to loan sharks in order to save her own neck.
Back in the present day… a girl claiming to be Hikari contacts the Kuriharas and says she wants her child back, or some money by way of compensation. They are not sure if it's the same girl whose child they adopted. The girl is either as devastated and confused as she appears or she's a very good actor and liar. But which? They lean towards the latter explanation, but then the police turn up with the girl's photo to make enquiries. The girl is now a missing person.
Clearly this is a film about women and motherhood made by a woman. Equally clearly, I can only respond to it as a man. Kawase is tapping into some very powerful, emotional and primal subject matter here of great interest not only to women but also to men, asking and exploring some huge questions. What is sex? What is motherhood? Is adoption a good or a bad idea? There's no pushing of a moral agenda here, no thesis, but rather an exploration of these difficult and often complex issues through various characters' stories.
It's a very gentle, slow-burner of a film that takes its time to get where it wants to go, a journey that would be impossible if it were hurried and the film were shorter. A number of brief character studies along the way make an impression. These include, to name but two, Hikari's mother and a kindly newspaper seller who takes her under his wing later in the story. The former is obsessed with family reputation and her daughter getting on in life; the latter is a boss genuinely concerned for his employees, especially if they advertently or inadvertently get themselves into any kind of trouble.
The combination of Kawase's directing sensibilities with the resonance of her chosen material makes the film a truly magnificent and deeply affecting piece of work. Indeed, a masterpiece.
True Mothers is released exclusively on Curzon Home Cinema on 16th April 2021.
Jeremy Clarke's new website is jeremycprocessing.com
Jonathan Clements

This article was originally published by blog.alltheanime.com. Read the original article here