The animator Yasuo Otsuka's death today at the age of 89 was announced by Toshio Suzuki, the former president of Studio Ghibli. That felt only fitting, for while Otsuka had no credits on Studio Ghibli's films, he was fundamental to the anime leading up to them over more than two decades, from Lupin to Chie the Brat. Indeed, Ghibli honoured Otsuka with a feature-length DVD documentary, Yasuo Otsuka's Joy in Motion, released in 2004. Unusually for a Japanese DVD, it had English subtitles, making it an invaluable document for foreign fans.
Born in 1931 in Shimane prefecture, Otsuka was senior to both Hayao Miyazaki and Isao Takahata, whom he would befriend in the 1960s. But Miyazaki had already been inspired by Otsuka's work. In his book Starting Point, Miyazaki wrote of being uncontrollably moved by Hakujaden, Japan's first colour cartoon feature in 1958, and "the pure earnest world of the film." Otsuka had helped create that world – he'd been one of Hakujaden's animators.
As a child, Otsuka hadn't been inspired by cartoons, but rather by trains; the steam locomotives transporting Japanese soldiers near the town where he lived. "I had no idea such wonderful things existed… I walked all the way to the station on holidays." This was trainspotting as a fabulous adventure and a creative dynamo for a boy artist. Otsuka remembered the engineers even letting him ride in the locomotives.
In 1945, his family moved to Yamaguchi. For Otsuka, the Occupation had a bonus – he could extend his sketching to army trucks at a nearby American base, and scavenged the soldiers' discarded comics like Dick Tracy. His sketching was a welcome distraction from his first day job, at Yamaguchi's Bureau of Statistics. He passed an exam for the Japan's Health and Welfare Ministry – not because he saw a career there, but he needed a pretext to move to Tokyo and (he hoped) become a political cartoonist.
He had a spell in the narcotics department, where a flamboyant American agent showed him how to draw and shoot a gun. Otsuka would remember him decades later, when he had to animate Inspector Zenigata in Lupin the Third. But Otsuka contracted tuberculosis – "I hadn't been eating well" – and spent two years in hospital, sketching and reading.
On his feet again, he took in foreign cartoon films: France's The King and the Mockingbird, which had a profound impact on Takahata, and Russia's Ivan and His Magic Pony. Otsuka was prompted to apply when he spotted a newspaper ad inviting artists to work on an ambitious new Japanese cartoon feature – Hakujaden.
Only 26, Ostuka was trained up for the film by Yasuji Mori, one of Toei's top artists. In Hakujaden, there's a wonderful scene where a yakuza-like pig character swings a sledgehammer, burying a stoic panda in the ground. The scene is about animation fundamentals: weight, force and timing. The key animation was by Mori, but Otsuka handled the in-betweens. "Each movement was precisely timed and lifelike," Otsuka commented. "I thought, I have to learn how to do this."
Otsuka himself handled some of the animation at the climax, in which a woman rides on the back of a monstrous undulating catfish. Ten years later, Otsuka would animate another giant fish; the malevolent pike a boy must battle in Hols: Prince of the Sun. It was one of the action highlights of that extraordinary adventure film, widely seen as a "seed" for a Studio Ghibli. Otsuka was an integral part of that film's team, which also included Takahata, who was Hols' director, and Miyazaki.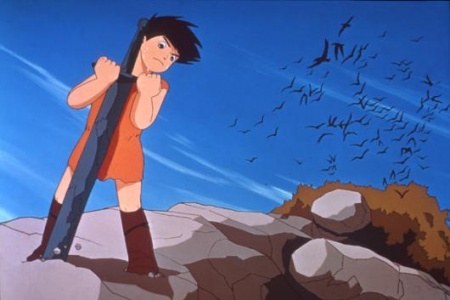 Both were mentored by Otsuka after they joined Toei in the wake of Hakujaden. Takahata joined the studio in 1959, Miyazaki in 1963; both were straight from college. "Otsuka taught me all about motion," Miyazaki says in the Joy documentary. Takahata, a non-animator, remembered, "He was always happy to answer my stupid questions; I consider him one of my greatest teachers."
Otsuka wasn't just teaching new recruits. Between Hakujaden and Hols, he burnished his reputation as an animator on several other Toei films. The Joy documentary highlights his experience on 1959's Magic Boy, where he animated a duel between the hero and a skeleton warrior. The effect was unintentionally comical, said Takahata, who was assistant director on the film. "The scene was so real, people laughed… We didn't mean to make it humorous. It's funny because it's so serious… The more serious you play it, the funnier it gets."
One need only visualise Zenigata in Lupin to see how this principle works in anime. In the years after Hols, Otsuka would be increasingly associated with comedy, and with animating funny adversaries like Zenigata. Miyazaki built up this association by writing a piece called "A Slanderous Portrait" (included in Starting Point), about his early acquaintance with Otsuka. According to Miyazaki, a "completely drunk" Otsuka roared off one night in his Fiat 500. He appeared mud-spattered the next morning, having buried the car in a road under construction. It's easy to think that incident could have informed Lupin's comedy too.
But in the same piece, Miyazaki remembers Otsuka "engaging in heated arguments with the (Toei) studio for three years, refusing to be the animation director unless Takahata directed, and finally realising this with Hols." But in the Joy documentary, Otsuka mentions being dropped from the group attending script meetings midway through Hols' production, with Miyazaki taking over from him.
"That was a real blow; I wanted to prove myself," Otsuka said. But he acknowledged Takahata's vision for Hols. "In a sense, I realised, it was beyond me. I'd reached the limit of my abilities. I'm an artisan; I like crafting interesting details. But direction is beyond me. With our next film, Puss in Boots [released by Toei in 1969], I forgot about directing… (I) just had fun doing my thing."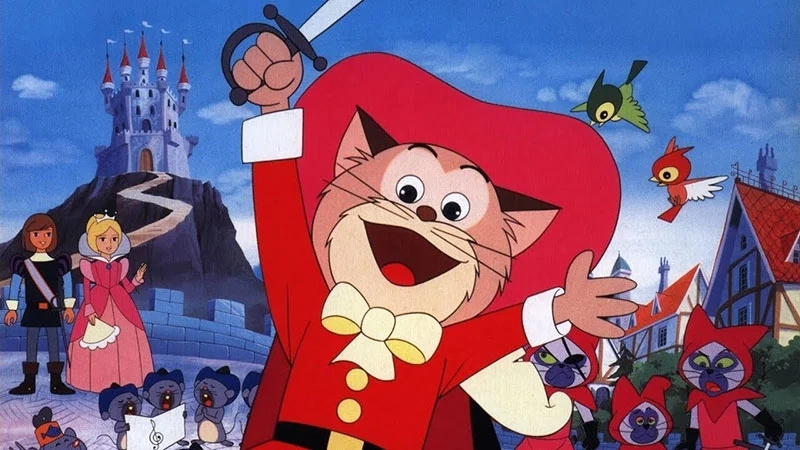 Puss in Boots would help establish the comedy Otsuka. He teamed with Miyazaki for the film's frantic finale, involving the cast running around the castle battlements. It would be the model for much of the action in Castle of Cagliostro. After Puss, Otsuka left Toei for the A Production studio, where he started work on the first anime version of Tove Jansson's Moomin books. This adaptation was loose enough to draw the wrath of the Finnish author, but its fresh approach, driven by cartoony characters more than action, had a seminal impact in the industry.
"Later, I heard the guys at Toei didn't think I was right for (Moomin)," Otsuka said. "They thought I just did fire-breathing monsters and giant fish." Miyazaki and Takahata thought otherwise, joining their mentor at A Production. Soon they were working together on the studio's Lupin (the first TV version in 1971). Otsuka could draw shoot-outs and car chases to his heart's content; he was also the show's Animation Director. At first, he worked with Lupin's creator Monkey Punch to adapt the manga to the screen. "But partway through, he quit," Otsuka said. "He said it was too much for him."
Not long afterwards, Otsuka had his first and only directorial credit, on the disastrous Tengri the Boy of the Steppes, a promotional short for a dairy company, on which his animators stitched him up by promising grand Mongolian vistas, but then demanding overtime payments to do them justice. In a completely different vein, Otsuka also worked with his former students on the two Panda! Go Panda! films directed by Takahata. Otsuka was Animation Director (with Yoichi Kotabe) and designed the characters. Otsuka took the same roles on the baseball series Samurai Giants (not to be confused with the earlier Star of the Giants). Ironically, his show ended up competing with Miyazaki and Takahata, losing in the ratings to their hugely popular Heidi.
The Joy documentary suggests he had mixed experience when he next worked with his colleagues. On Otsuka's account, Miyazaki insisted he join him on the series Future Boy Conan,  Miyazaki's debut as overall director. Otsuka is credited as Animation Director on the series; according to the Joy documentary, he was especially responsible for Captain Dyce, the show's most buffoonish character. However, Otsuka claimed Miyazaki was already dissatisfied unless he handled the art himself: "He didn't like what I produced; he said he'd do it all himself. He did all the key animation. I basically did clean up."
Otsuka, though, was instrumental in persuading Miyazaki to direct the Lupin film Castle of Cagliostro. Again, Otsuka was the Animation Director, on the film, as well as Character Designer. Similarly, he helped persuade Takahata to make an all-out comedy in Chie the Brat, a film about a tough girl's life in blue-collar Osaka. This time, Otsuka shared animation direction and character design with his old colleague Yoichi Kotabe. Following his work on Conan's Dyce, Otsuka focused on another buffoon; Chie's hopeless dad Tetsu.
After Chie, Otsuka's animation credits became much scarcer, although his name occasionally cropped up – for example, as a supervisor on the 1987 Lupin film The Fuma Conspiracy. He also made a rare live-action appearance as a taxi driver in Mamoru Oshii's obscure live-action film The Red Spectacles (also 1987), set in the same alt-history world as the later Jin-roh anime. But the Joy documentary suggests his main roles since Chie were as a respected consultant and adviser in the anime industry, and also as a much-loved teacher to younger animators – a role he'd first taken with Miyazaki and Takahata in the 1960s.
Much overlooked on his resumé is his role as a historian of anime. He wrote several books that have become core works on the narrative of Japanese animation history, including Sweating on Animation, a memoir of an animator's life, and The Prospect of Little Nemo, a book-length account of the troubled Little Nemo co-production, told not through how it eventually turned out, but through the various dead-ends and failed experiments abandoned partway through the film-making process. His cohorts at Studio Ghibli made sure they were kept in print in the 21st century, along with a book-length interview with him, intended as an oral history of anime's golden age.
Jonathan Clements

This article was originally published by blog.alltheanime.com. Read the original article here